Part 5 of many about GA4  and what is coming after UA
We will pick up this installment of the Analytics after UA here at the end of this article GA4 Segments and Audiences by focusing on building audiences in GA4. 
Creating custom and remarketing audiences in Google Analytics 4 is one of the strategies to progress your analytics setup, per the GA4 checklist. You may need clarification on GA4's comparable audiences, segments, filters, and comparative options. 
Who are the GA4 audiences?
Let's begin by defining the target audience. Users can be grouped or segmented into audiences based on one or more demographic, geographic, or user behavior characteristics. 
This segmentation of users means you can use the whole amount of data in Google Analytics 4 to build audiences. For instance, you can create the following audience:
Facebook Ads Traffic from the USA

Google Organic Search Mobile Traffic 

Google Ads Desktop Traffic Paris, France

Users who started their first session visiting the specific landing page and scrolled more than 50% of the page 
Users that arrived at the targeted landing page for the first time during their first session and scrolled more than halfway down the page 
These are all illustrations of audiences in GA4. So the question "What's the difference between them" is excellent if you use segments in GA4 Explore. 
How To Create Audiences in GA4
The audience creation process in Google Analytics 4 is comparable to that in Universal Analytics. Therefore, you should launch GA4 and take the next step to do that: Click the "New Audience" button under GA4 -> Admin -> Audiences.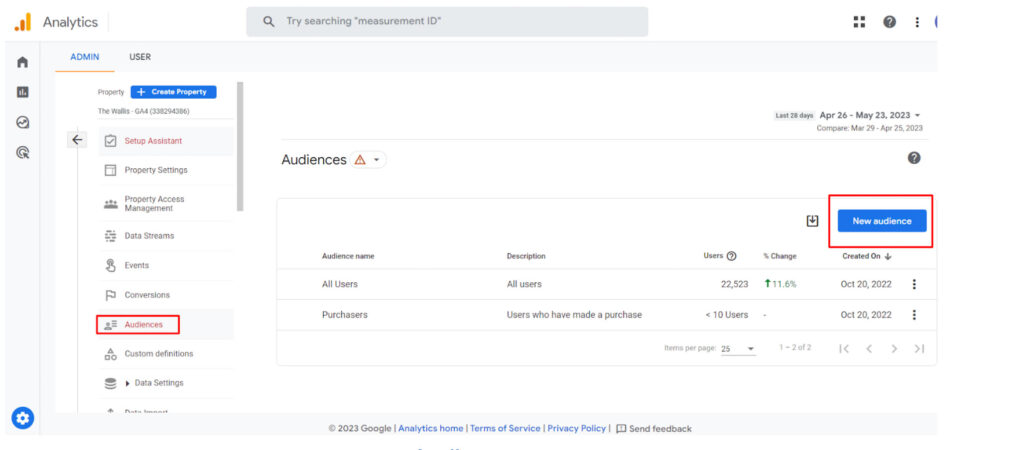 Let's review the interface at this point. For this article, I decided to split the audiences into two types:
Predefined audiences – the ones we can create using GA4 Templates

Custom audiences – any audience we create using GA4 "Create a custom audience" button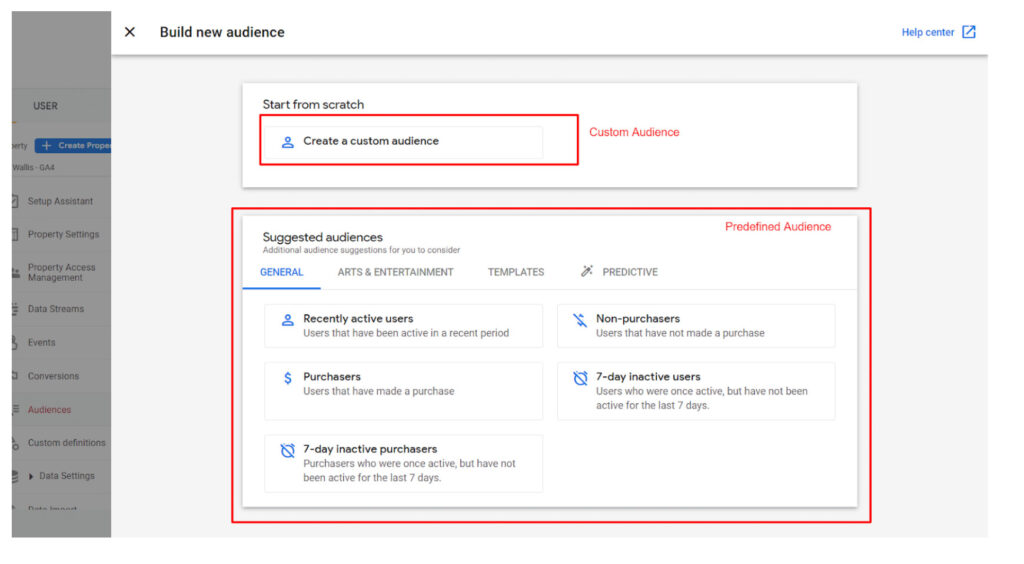 We can create the first type of audience using Google's templates. Then, selecting the appropriate selection and entering the value are the only things we need to change. Next, Google offers us some ideas on how we may create them.
For instance, choosing "US" as the "country id" in the demographics template makes it simple to establish an audience that includes all users from the USA.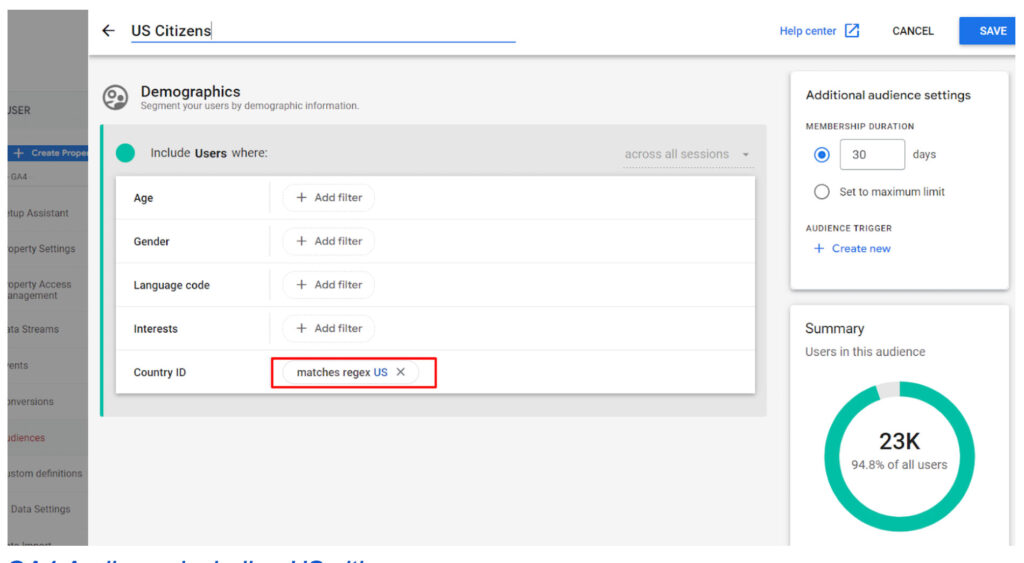 We can create remarketing audiences for Google Ads using customized or suggested audiences.
Predictive audiences is another intriguing Google Analytics 4 feature that allows you to run paid advertising campaigns, for example, for users more likely to churn. Send by ecommerce_purchase or in_app_purchase events to activate these audiences.
Audiences – Metric
Definition
Purchase Probability
The probability that a user who was active in the last 28 days will complete a specific conversion event within the next seven days.
Churn probability
The probability that a user who was active on your app or site within the last seven days will not be active within the next seven days.
Predicted revenue
The revenue expected from all purchase conversions in the next 28 days from an active user in the last 28 days.
Unfortunately, you will see a "Not eligible to use" label if you don't send these events.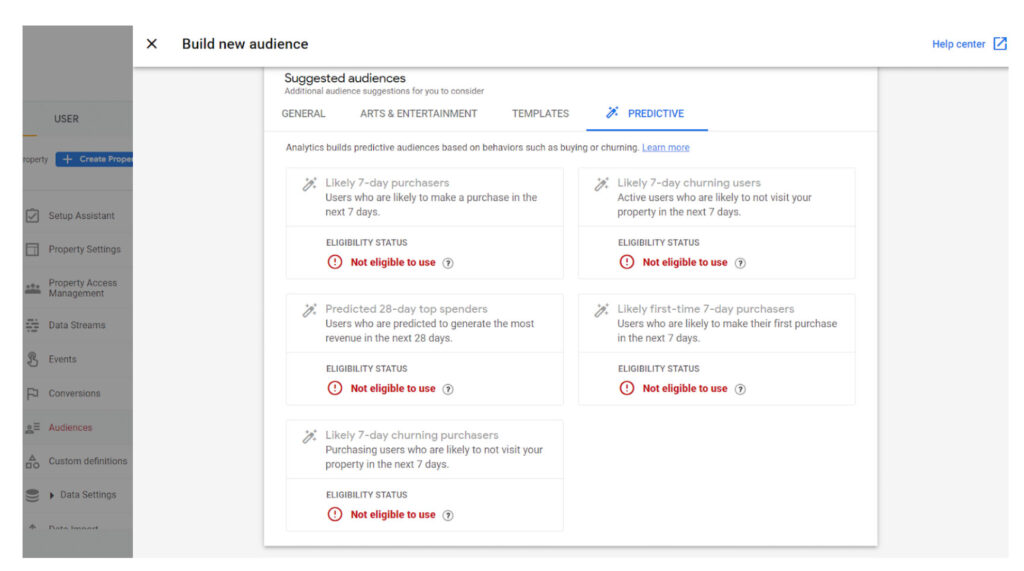 Let's create a custom audience and enable it in Google Ads. This way, it will become a remarketing audience. 
Creating a custom audience in GA4
We want to target users who landed on the Show page during the last 30 days. We want to show them an ad detailing purchase ticket options and deals.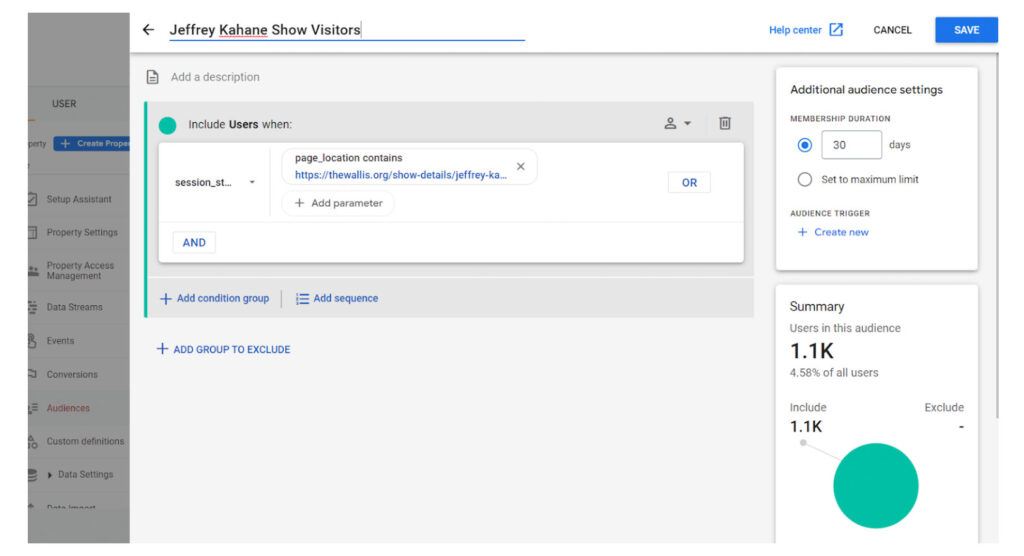 As I previously stated, Google Analytics 4 allows you to build up to 100 audiences. So, you may find yourself in a position where you must remove, alter, or archive one.  
Once more, editing an existing audience does not need resetting any users. This audience has no users before you provide and save modifications, but it immediately begins to get new traffic. 
The audience can be archived in Google Analytics 4. The same as delete, it is. Go to the GA4 Audiences page, click the three dots next to the audience you want to delete, and then select "archive."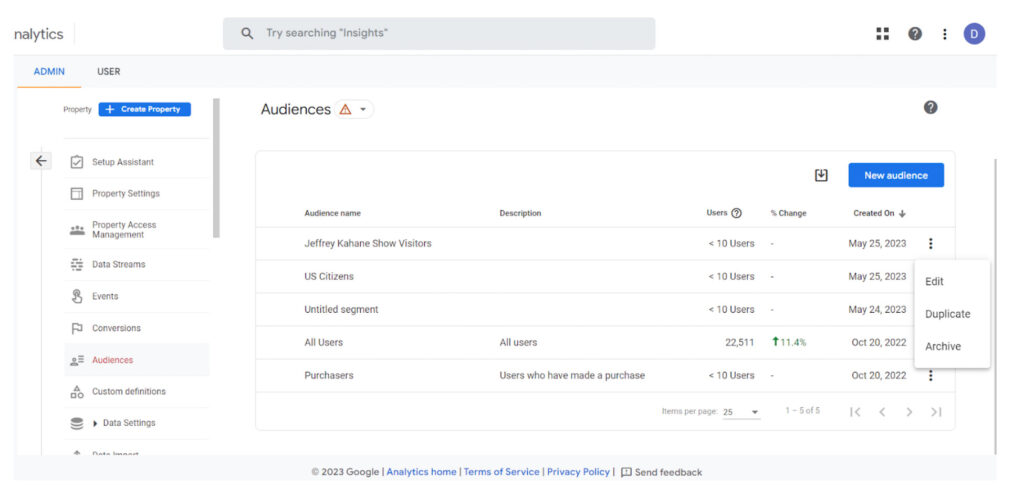 Additional Thoughts